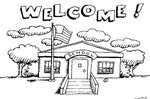 " A school is a building with four walls, and a tomorrow inside."
Sharing Ready Resources-- When you need assistance and there aren't any funds or staff available, what can you do?
Time Management--Do you feel there isn't enough time in the day? See what others do to find the time.
Social Support--Finding time to celebrate life: Experience is the best teacher and teachers have the best experiences.
Proration Preparedness- The alarm has sounded for severe financial weather; What shelter do you have?
Contractor Contracts- In order for us to build a Foundation, we need contractors and materials. Are you ready to do business?
Continuous Events
Birthday Bandit
Faculty meeting motivational training acitivities
October 26,2009 "Let it Roll"
November 17,2009 Meet the Tate Family
Upcoming Events:
Hocus Pocus: Remediation is Our Focus! (Teachers)
November - Alabama/Auburn charitable event: Dress alike days (Teachers)
Change for Change -collecting change for charities (Teachers and students)
Collecting canned foods for your favorite team (Teachers and students)
Harvest of Plenty Faculty Brunch -Catered (Teachers)
December--CCHS Night At the Museum Week/Night- AHSGE review
December--Teacher Talent Show
December--Christmas Luau Faculty luncheon-off site (TBA)
Survivor Dawg Island-- May 2010